Sylvia Fullman, Swedish-British artist, Stockholm, died on February 26 at the age of 76 after a long courageous battle with cancer. She is survived by her daughter, Sussie Ranki and her family, her husband Tommy Ottebjer and his children Annicka Sköld, Linda Ottebjer and Robin Ottebjer and their families, as well as her brother Ron Fullman and his family.
Sylvia was born in London. Her father was a talented amateur painter, and she taught herself to draw as a child when she was confined at home with tuberculosis. Sylvia came to Sweden in 1969 after finishing her studies in painting at Walthamstow School of Art with a National Diploma in Design. Her teachers there included Peter Blake, Derek Hirst, Fredrick Dubery, Fred Cuming, Margaret Green and many others. Her art training continued at the Royal College of Art (now the Royal Institute of Art) in Stockholm from 1970-1975 where she was enrolled in the Printmaking Department under the direction of Philip von Schantz and Nils G. Stenqvist. It was there that she explored the creative possibilities of printmaking, particularly colour etching. Sylvia said that she used colour to create moods in her prints, with the whiteness of the printing paper as a source of light. People, water, animals and plants were her favourite motifs. Her last exhibition was held in Eskilstuna in 2017. She drew, painted, made prints and also worked with other techniques including sculpture and photography. In 1979 she was commissioned to make three painting for the Mariatorget underground station in Stockholm. She also did professional printing for other artists including Brita Molin, Berta Hansson, Ruth Goldman and others, including two of her colleagues mentioned below. As a printer Sylvia was very skillful, and she was also quite caring because she always did her best to bring out the most important qualities of each print.
We like using the old-fashioned Swedish word vänsäll to describe Sylvia, it refers to someone who has many friends whom they hold very dear. She was attentive and caring, always helpful and generous with a warm sense of humor. There was plenty of space for their children, their ten grandchildren and their many friends in Tommy's and Sylvia's big welcoming house with lots of art all around. Sylvia had a green thumb, and she loved gardening. A visit would usually end with a walk around in their wonderful garden. And quite often we would leave with a gift of tomatoes, herbs or small plants that she had cultivated.
Sylvia is truly missed; she was a real friend with the soul of an artist.
From her colleagues and friends,
Kristina Munklinde
Rachelle Puryear
Ursula Schütz
Kersti Söderström Ergon
LAST EXHIBITION IN ESKILSTUNA 11:th FEB TO 2:nd MARCH 2017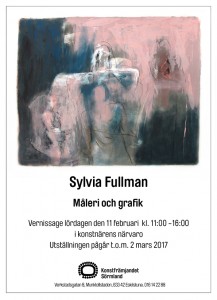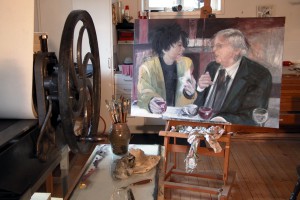 A SHORT HISTORY
I was educated in London as a painter (South-West Essex Technical College and School of Art in Walthamstow). My teachers there were Peter Blake, Ken Howard, Fredrick Dubery, Fred Cuming, Derek Hirst, Derek Boschier, John Willats, Peter Dadd, Margaret Green, Jack Smith and others.
In 1969 I came to Stockholm, Sweden in the hopes of continuing my education. I was fortunate enough to be accepted at the Royal Swedish Academy of Fine Arts and spent five years there in the print-making school. My teachers were Philip von Schantz, Nils Stenquist, Hans Hamngren, Lennart Glemme, Ingvar Hurtig and others.
I investigated all of the print-making techniques available and became especially engrossed in colour etching. I found I could use colour to evoke moods and the white of the etching paper was my light source. It was a painterly approach to making prints.
In the early years I printed editions for my colleagues to supplement income from sales of my own work, learning more about print-making all the time. I now show a mix of paintings and prints in my exhibitions, often using a theme, for example People or Parties to bring the different means of expression together. I enjoy drawing from the life model and sometimes develop the drawings into prints (etchings, lino-cuts, lithographies, monotypes) and also paintings. Mostly my subject matter consists of people and animals in different situations. Dreams can sometimes be a source for my inspiration.